Ambitions for new Solihull railway station and transport hub set out
Monday 21 September, 2020
Proposals for the new Solihull railway station and interchange have been set out in a new update from Solihull Council.
The station links Solihull town centre to key destinations such as Birmingham and London. However the current station, built in 1938, is approaching the limit of its operating capacity.
Network Rail has predicted significant future growth in passenger numbers and something needs to be done to accommodate this future demand and allow the station to continue with its role as the principal gateway into Solihull Town Centre.
Over the course of a three week long engagement exercise last summer, station users were asked to complete an online questionnaire about the current facilities and their use of the station.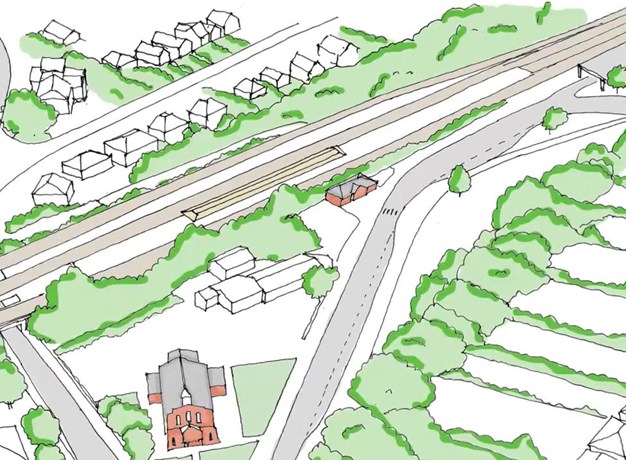 The project team had hoped to hold a series of update sessions to feedback their findings from the survey and look at the next phase of this project. However, given the current situation, the project team have filmed a  video update which outlines some of the highlights from the survey and shows how they have been used to help shape a number of key project ambitions.
Solihull Station Integrated Transport Hub - Project update September 2020 from UKCentral on Vimeo.
Key themes from the survey response included; the need for better station facilities such as enhanced ticketing facilities, more seating and improved waiting areas and more food and beverage options.
Passengers also identified current issues surrounding road layout and connectivity including; the confusing pick up and drop off arrangement for cars, unwelcoming walking routes to the station, inadequate provision for cyclists and congestion outside the station caused by cars, busses and taxis.
The look of the station and its surrounding alongside environmental considerations were also mentioned, with many asking for more opportunities to enjoy trees and wild flowers.
With this feedback the project team have been working closely with Network Rail, Transport for West Midlands, Chiltern Railways and other partners to develop a project brief to identify options for the development of an integrated transport hub.
A series of key project ambitions have been identified which will pave the way for a station which will be suitable for the needs of people today and provide access for all while, tackling the congestion currently experienced.
These key ambitions include:
A  new landmark building reflecting the character of Solihull, with improved facilities at the station addressing problems currently experienced, such as long queuing times.
A larger, modernised station ticket hall.
A new multi-modal interchange prioritising walking, cycling and public transport to provide, safe and enjoyable transition between different modes of transport.
A hub that improves regional connectivity and one that looks to the future.
A design with sustainability and the environment at the core of the proposals.
A design that celebrates Solihull's heritage and vibrancy with new public spaces designed for all.
Using funding secured from the West Midlands Combined Authority, the Council has commissioned Mott MacDonald to help develop the Solihull Station Integrated Transport Hub.
They will also assist in developing the design and business case for the Hub and delivering a masterplan for the station area.
Member of the public are encouraged to email hello@interventionarchitecture.com to share any thoughts or feedback. Alternatively they can write to; Solihull Transport Hub, Intervention Architecture Ltd, Unit 12 ArtHaus, 80-82 Floodgate Street, Birmingham, B5 5SR.
You can also sign up to receive email updates on this topic  here.
Contact the Media Team