Life as a construction worker during the pandemic
Thursday 07 October, 2021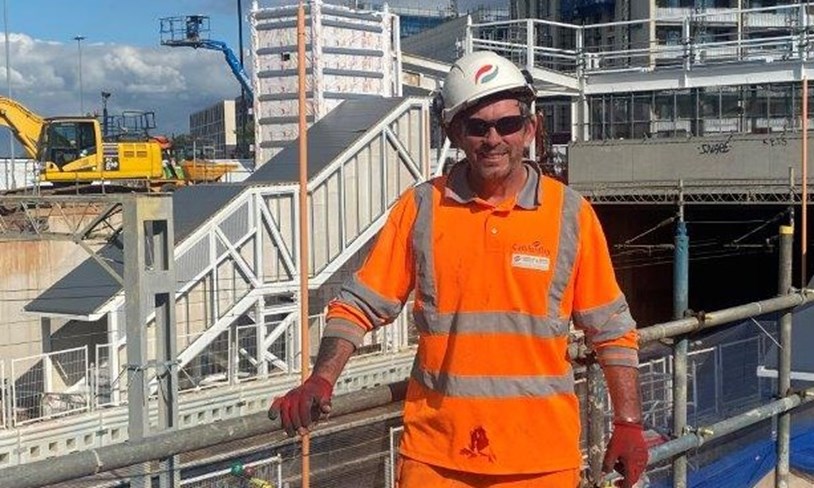 Our construction workers at Perry Barr and University stations have continued to work during the coronavirus pandemic. They have overcome personal and professional challenges to help us build vital transport infrastructure.
Dean Ball, a forklift truck driver with Galliford Try, works at our Perry Barr site.
Dean lives on his own but has a daughter and granddaughter. He's also the main carer for his father, who is seriously ill and recently suffered a stroke.
"I was one of the lucky ones. I worked right the way through covid without any time off and no health issues during that period," says Dean. 
Having a covid-safe workplace is important to Dean. He says:
"Galliford Try put into place as many precautions as possible to ensure the workforce was adhering to the government guidelines. I was involved with ensuring the site had sufficient covid stations, which were constantly checked for compliance.
"I had to ensure I was socially distancing from other members of the team as I did not want to catch covid and then pass it onto my father. This was extremely important to me and Galliford Try management ensured I could work safely.
"After work, the only person I could see was my father. I was the only family member in contact with him.
"As soon as I had finished work, I would go home, shower and then attend to my father's needs every day without fail during covid."
Dean kept in touch with his granddaughter via phone and video calls. He was not able to see his mother during the pandemic, as she was in hospital due to mental health issues. 
Now that restrictions have eased, Dean is able to spend more time with his family. He says:
"I have used this valuable time to spend nearly every weekend with my immediate family and granddaughter, going away in my camper van to get back to reality.
"I have also taken my father away to Wales so I can spend some quality time with him and I plan to do this again soon.
"My mum is now out of hospital, so I see her once a week to ensure she has as much support as possible to regain her confidence and deal with her mental health problems."
We're grateful for the dedication of workers like Dean throughout the pandemic.
At University and Perry Barr, our principal contractors - VolkerFitzpatrick and Galliford Try - have helped us to provide a safe space for all the workers on site. 
We've been following the government's Covid guidelines throughout the project. Although restrictions have eased, we're continuing our Covid-secure measures.
Contact the Media Team