New era of better trains and services as control of region's rail network moves into local hands
Monday 04 December, 2017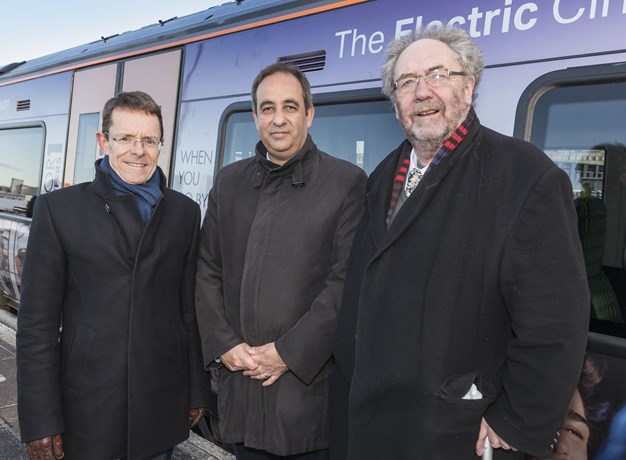 A new era of rail travel offering passengers more frequent services, better trains and extra seats was ushered in today (Monday December 11) as management of the West Midlands network was put into local hands.
A new franchise, managed jointly by a consortium of local councils and the government, got underway bringing a near £1 billion investment into the local network over the next eight years.
The new franchise, which runs until March 2026, will see more services and more space for passengers while stimulating and supporting further economic growth and jobs across the region.
The improvements have been built into the franchise by West Midlands Rail (WMR), a consortium of 16 local councils, in close collaboration with the Department for Transport (DfT).
Trains operating on the local network are being branded in a new West Midlands Railway livery and operated on behalf of WMR and the DfT by West Midlands Trains Ltd, a joint venture between Dutch train company Abellio, the East Japan Railway Company and Mitsui & Co Ltd.
Cllr Roger Lawrence, chair of WMR and leader of City of Wolverhampton Council, said: "Today really is a watershed moment for our region's rail network and it will bring many improvements for passengers over the coming months and years.
"This is the first time that West Midlands councils have had such a level of influence in setting out what a train company must deliver and we have used that control to make sure this new franchise gives passengers and our businesses what they need from their local railway in order to prosper.
"The increased frequency and on-board capacity is particularly important for the tens of thousands of people who rely on the network to get to work each day but it is also important for those making business trips or simply going out to enjoy our region's cultural and leisure attractions."
The new franchise will see:
20,000 extra seats for rush hour passengers in Birmingham
100 new carriages on the Cross City line
80 new carriages for the Snow Hill lines, replacing the entire fleet currently running to and from Worcester/Hereford and Shrewsbury
Compensation if services are delayed by more than 15 minutes
Free WiFi on all main line services
A roll out of smart ticketing and live passenger information
Trains and stations branded in the locally specified West Midlands Railway livery
Andy Street, Mayor of the West Midlands, said: "Our local rail network has a crucial role to play in making sure our region has the connectivity it needs to compete and prosper on a global stage.
"So being able to bring local knowledge to bear in shaping and managing this new rail franchise means we have been able to secure more of what passengers have told us they want - things like earlier and later weekday services and more trains on Sundays.
"The region will now work hard in partnership with West Midlands Trains to make sure this new franchise and the £1 billion investment it brings will deliver the sort of railway our passengers need and deserve and one that can drive and support further economic growth."
The new franchise will see a £680 million investment in 107 new trains made up of 413 carriages which are being built by Bombardier Trains and Construcciones y Auxiliar de Ferrocarriles (CAF).
These include 100 new carriages for the Cross City line, the busiest route on the West Midlands network, and will be of a design that offers increased space to carry more passengers and wider doors for quicker access.  These will go into service in 2021.
Other benefits for passengers due to come on stream under the new franchise include: 
More trains between Birmingham and Shrewsbury, with two services per hour from December 2018 
A regular two trains per hour service between Birmingham and Rugeley via the Chase Line from December 2018 
A new, direct hourly service between Birmingham and Stoke-on-Trent from December 2018 providing much needed additional capacity 
An extension of Cross-City line services from Longbridge to Bromsgrove 
A new hourly shuttle between Leamington Spa and Coventry serving the new station at Kenilworth once it opens in the New Year 
Two morning and two evening rush hour direct services between Walsall and London from December 2018, helping to unlock economic growth in the region 
More Sunday services on the Cross-City line with the number of trains per hour between Longbridge and Birmingham doubling from two per hour to four in December 2018, and then increasing to six in May 2021 
Increased Sunday services on the Snow Hill line with the number of trains per hour between Snow Hill and Stourbridge Junction increasing from two to six 
A new Sunday service between Birmingham and Shrewsbury from December 2018, and a second train per hour introduced in May 2021 
Jan Chaudhry-van der Velde, managing director of West Midlands Trains, said "It's great to get started on delivering everything we've promised to our customers across the network.
"The £1bn of investment will allow West Midlands Trains to be one of the core drivers of faster economic growth throughout the regions in which it operates.
"We're also delighted to see so many of our new trains produced in the Midlands, stimulating the local economy.
"Along with the 900 apprenticeships put in place over the coming years we'll be building a legacy that will benefit the industry for decades to come."
The franchise will, for the first time, see passengers entitled to 25 per cent compensation if their train is delayed by more than 15 minutes. They already receive 50 per cent of their money back for delays of half an hour and full compensation if it is more than an hour.
Around £60m will be invested on station improvements across the franchise area delivering 1,000 new car park spaces, 2,500 cycle parking spaces, a cycle hire scheme, new and refurbished waiting rooms and more seats at stations. There will also be improved access for those requiring extra assistance, including disabled people.
Feasibility studies are also being undertaken for the development of new stations in the West Midlands and there are plans to limit the impact of delays caused by leaves on the line in the autumn, including through the introduction of new modern trains.
Contact the Media Team