West Midlands Rail responds to InterCity West Coast franchise consultation
Friday 26 August, 2016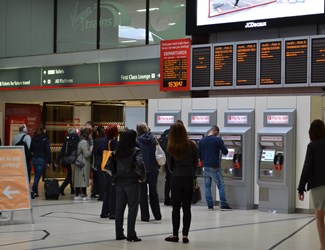 A re-named and modernised Birmingham International station and an InterCity hub for the Black Country are among measures being proposed by the public body which will oversee rail transport in the West Midlands from next year.
West Midlands Rail (WMR) made the proposals as part of its response to the Government's InterCity West Coast Franchise consultation.
Cllr Mark Winnington, the chair of WMR and cabinet member for economic growth for Staffordshire County Council, said the station needed to be renamed 'Birmingham Airport & NEC' to reflect its importance to the region.
He said: "Renaming the station would increase its profile as an interchange for the airport and the National Exhibition Centre, which are two key assets of the regional economy.
"It is part of a package of our aspirations to improve late night and early morning services there.
"The station is of major strategic importance and needs to be modernised to meet the needs of all users and to be ready for the arrival of HS2."
Cllr Winnington said WMR also wanted better recognition of the importance of Sandwell & Dudley station as an InterCity hub for the Black Country.
"This requires station modernisation, better facilities, and consideration of how other modes of transport can better integrate with the railway.
"Addressing these issues and enhancing the opportunity for modal interchange would see Sandwell & Dudley move towards realising its potential as a significant regional InterCity hub."
Other responses from WMR include:
Opposition to any reduction of stopping patterns at stations
Stations receiving inter-city services during the day should have the last train stop there at night to ensure passengers had more choices and to support the evening economy in the region.
Minimum service levels need to be specified to prevent passengers losing out to decisions taken purely on a commercial basis by the operator, such as services to Shrewsbury and Telford Central
Clearer and simpler ticketing
WMR is a consortium of 14 Metropolitan, Shire and Unitary authorities from across the region which will be responsible in partnership with Government for overseeing local rail services once the new local franchise starts in 2017.
The consultation, which ran from May until August, sought the views of groups including passengers, communities, businesses, rail groups, local authorities, and Local Enterprise Partnerships along the key rail route between London and Scotland.
Cllr Winnington said WMR fully supported the aims set out in the West Coast consultation of making journeys better for passengers.
"We are keen to work closely with the next operator of the West Coast franchise to help achieve the West Midlands Rail vision for a rail network for the region that works for passengers and our economy.
"This will create a consistent high standard across the WMR area of customer information and better journeys, as well as building recognition of who we are."
The West Coast franchise is currently run by Virgin Trains, which operates long-distance high-speed services between London, Birmingham, Manchester, Liverpool, North Wales, Glasgow and Edinburgh.
It is due to end in April 2018.
The Department for Transport will publish a report summarising stakeholder views on the franchise and its conclusions on them in November, when the Invitation to Tender is scheduled to be formally issued.
More information about West Midlands Rail can be found here.
ENDS
More information from Mark Langford on 0121 214 7278, mobile 07824626952, email marklangford@centro.org.uk
Contact the Media Team