West Midlands submits bid to have more responsibility for local rail services
Thursday 25 September, 2014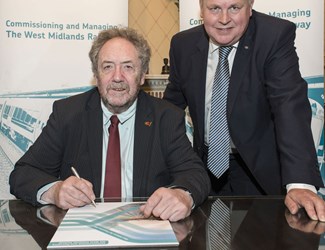 Councils from across the West Midlands today (September 25) approved a formal proposition to Government to put more responsibility for the region's rail services in local hands.
Metropolitan, shire and unitary authorities from across the West Midlands met at the County Buildings in Stafford to endorse the submission document - 'West Rail Midlands Rail Proposition 2014'.
The proposition will now be formally submitted to Transport Secretary Patrick McLoughlin.
The authorities believe devolving powers from central Government to the West Midlands would create a better railway not just for passengers but also for the region's economy, helping to drive growth and jobs.
Today's event also marked the launch of West Midlands Rail, a consortium involving 14 authorities - Birmingham, Coventry, Dudley, Herefordshire, Northamptonshire, Sandwell, Shropshire, Solihull, Staffordshire, Telford and Wrekin, Walsall, Warwickshire, Wolverhampton and Worcestershire.
If the Government agrees to the rail devolution proposition then West Midlands Rail will be the public body responsible for overseeing local rail services once the existing London Midland franchise ends in 2017.
The submission follows an approach last year by the Department for Transport which asked English regions for their thoughts on taking over the commissioning and management of local rail services.
Cllr Roger Lawrence, leader of Wolverhampton City Council and chairman of West Midlands Rail (WMR), said: "The submission of this proposition is a major step towards securing local management and ultimately delivering better rail services focussed on the real needs of West Midlands passengers.
"The local rail network has a key role to play in supporting the region's economy and holding more responsibility here in the West Midlands will help make sure that new investment is best targeted to create growth and jobs.
"It would also help ensure the local rail network fully connects and feeds into the forthcoming high speed rail line, thereby maximising the significant economic benefits offered by HS2."
Cllr Mark Winnington, Staffordshire County Council's cabinet member for economy, environment and transport and vice chairman of WMR, added: "We believe that a local partnership better understands what local people and the economy needs from its railway.
"Local responsibility would be good for passengers and good for business, enabling people to reach the shopping, commercial and tourist centres in our towns and cities. We believe it would be more accountable and responsive and better value for taxpayers."
Transferring more responsibility for the franchise from the Department for Transport would enable the West Midlands to use its local knowledge to lay down minimum standards of service, including punctuality and reliability and have the power to hold the train operator to account.
Devolution could also provide an opportunity to set fares locally, offering fairer pricing for passengers, while locally managed stations could mean improved passenger information, better security and staffing and upgraded facilities such as more cycle parking.
The move could also mean more frequent trains and better integration with bus and tram services while easing the way for a network-wide smartcard that can be used on all modes of public transport.
Only two areas of the UK presently have locally managed rail networks - Merseyside and London. Both have been highly successful in terms of passenger satisfaction, passenger growth and punctuality.
ENDS
Contact the Media Team